I often get asked about the process of building out Go-To Market strategies for our ABM clients so I wanted to pen a few words on a simple and effective framework that can help ABMers set up their programs for success from the outset.
ABM campaigns must be built on the bedrock of three R's: Reputation, Relationships and Revenue and that a successful GTM, builds from this foundation. At Hotwire, we help our clients ignite these three constituent parts to land or defend accounts that have a major impact on their business.
It may seem contentious to say so, but many CMOs are missing out on a glorious opportunity for their business, either by not using ABM at all or because they do not make the most of its potential. What's the obstacle? Often it's an old-fashioned silo mentality that prevents Marketing from working with Sales and Comms as smoothly and coherently as it could do. This lack of harmony can prove costly if measured by strategically important accounts that end up in the hands of a competitor.
CMOs need to grab the bull by the horns to ensure Marketing, Sales and Comms piggyback off each other and become more closely aligned. Hotwire can help them achieve this but to do so we need to have conversations at a senior level and a role in setting objectives, so that when campaigns are deployed they deliver maximum advantage to the business.
The danger otherwise is that 'go to market' strategies become a patchwork quilt, meaning that target audiences receives mixed messages instead of a consistent, unified approach. Moreover, you miss your chance to sweat the most out of each channel.
Reputation
Mixed messaging is unwelcome in any kind of marketing but the problem is amplified in ABM where decision making is concentrated in the hands of a small number of people who need absolute clarity when giving the green light to significant spending. That's why Reputation is such an important factor. Building it entails creating strong content packed with the messages prospects need to hear, making sure this content reaches the right people and encouraging those people to engage with it. Marketing, Comms and Sales are integral to this, and harmony here will produce the best results.
Relationships
This feeds into Relationships building – creating new connections between clients and their target accounts and developing existing relationships. For instance, is the campaign generating meetings? Is Sales now having meaningful conversations with prospects who have been warmed up to have a very positive view of the company?
Revenue
Ultimately, this leads us to the final R, Revenue. We can quantify what opportunities generated by ABM activity are worth. Better yet, assuming the campaign is successful, we are able to look at the revenue generated when a deal is signed, showing how a prospect interacted with our content and identifying the attributable touch-points on their journey towards a deal.
Then we can use the three R's again to build upon the ground made.
For more on this and to hear from our ABM experts at Hotwire, visit to download our recent eBook, What ABM success looks like.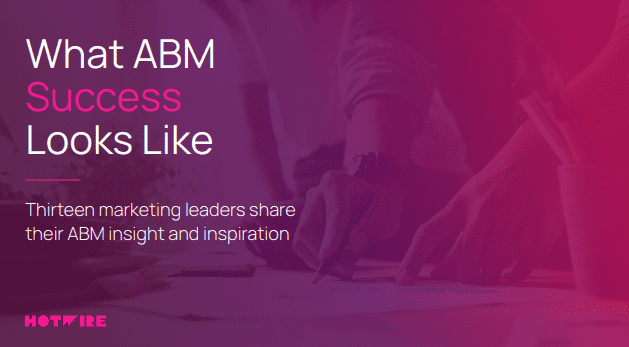 ---
Josh Turbill is UK Chief Digital Officer at Hotwire, the communications consultancy that powers the world's most innovative tech brands.