I mean, who doesn't appreciate some tongue-twisting alliteration to get us excited about learning something new?
March 21, 2006 marked the day that Jack himself (co-founder and CEO of Twitter) tweeted the first ever tweet. Today, the platform shares around 500 million tweets a day, across hundreds of millions of users, and hundreds and thousands of brands. But how can your brand cut through the Twitter storm?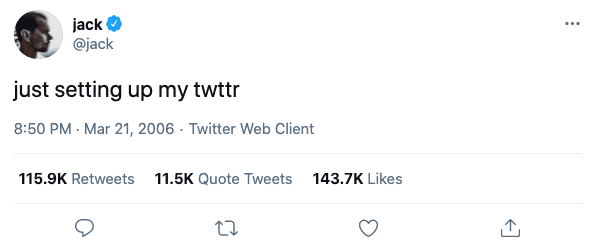 Around this historic day, allow me to share with you some top tips to elevate your Twitter content:

Keep your copy clear and concise
If my Year 9 maths teacher taught me anything, it was the acronym KISS – or "Keep It Simple, Superstar". The idea of KISS was to take brain-numbing maths equations and break them down into simple, bite-sized formulas to make the question more manageable. While clearly I haven't excelled as a 'superstar' mathematician, the same KISS approach actually applies effectively to your copywriting.
Recent research from Sprout Social revealed that Twitter posts between 71 – 100 characters get 17% more engagement than longer tweets. Understandably, this reduction in copy can be tricky for any copywriter or aspiring wordsmith, but given the rapid, real-time nature of Twitter, keeping your copy concise is crucial.

3 is a magic number
Let's face it, Bob Dorough was right, 3 is a magic number. The magic number 3 applies to Twitter in two ways:
Posting cadence. Having dove into the plethora of articles detailing the optimum number of posts a brand should share on Twitter each day, the number which came up most was 3. As I've mentioned, Twitter is a reactive, real-time platform. Given its nature, brands need to keep the lights on with timely, reactive content. Think news hooks, international days, social trends – all of these lend themselves to Twitter's real-time demeanour.
Hashtag usage. For a new starter on Twitter, it would be easy to assume that a tweet should be bombarded with a multitude of hashtags in the hope that it appears within relevant conversations. In actual fact, this practice is an engagement deterrent! Tweets full to the brim with hashtags can be viewed as spam and turn people off from the content. Instead, use no more than 3 hashtags. I tend to approach this by implementing two industry-specific hashtags, and one brand-specific hashtag.
Extra tip – if you can fit the industry or brand hashtags in the post copy itself rather than stuck on the end – bonus points for keeping it clean and concise.

Video keeps killing it
While imagery and graphics still have their place in the feeds of the social platform, video remains the undisputed king of Twitter! Hootsuite reported a 62% increase in videos views on Twitter from 2019 to 2020 and a 72% year-over-year increase in watch time.
WordStream also reports that tweets with video get 10x more engagement, and for those of you dabbling in the social arts of paid promotion – Twitter ads with video are 50% cheaper in cost per engagement.
That's a lot of positives for video, right? Now's the time to add it to your arsenal.

And while you're at it..
Embrace Twitter's other formats! Outside of images and video, Twitter polls and threads are a perfect way to engage your audience in new and interesting ways.
Polls allow you to pose a question with four possible answers. Teasing people with data from a recent whitepaper? Use a poll. Trying to find out the current state of a company's IT infrastructure? Use a poll. Wondering if baked beans on Weetabix is disgusting or culinary genius? Use a poll (but realise it's the former).
Threads on the other hand are ideal for longer narratives. So for those wanting to tell a story outside of Twitter's 280-character limit, threads are there to save the day. Use the opportunity to thread together a series of tweets, and offer interesting URLs and destinations to other content each step of the way.

Lists, lists, lists
And finally on this Twitter tips checklist – lists!
Did I mention there were 500 million tweets shared each day? Well lists are a perfect way to create tailored Twitter feeds to ensure you're only seeing the posts you want. Client prospects, partners, event attendees, competitors, influencers and thought leaders – all can be grouped into specific lists to make your job of monitoring and engaging that much easier.
So there you have it, you should have everything you need to kickstart your successful takeover.
Happy Birthday Twitter!